Pescado En Salsa Verde (fish Fillets in Green Sauce)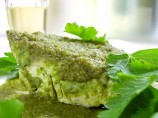 Photo by Thorsten
Prep Time: 15 mins
Total Time: 30 mins
Servings: 6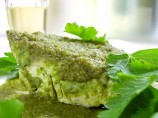 Photo by Thorsten
About This Recipe
"From "A Taste of Old Cuba." this recipe originally came from a 1950's Cuban TV cooking show--Cocina al Minuto--and can be made in 30 minutes and it couldn't be easier. You can use any white fleshed fish (snapper, flounder, grouper, etc.) and it's a great meal with rice, salad, and good bread to sop up the sauce. I like to add one little hot red pepper, chopped, but that's up to you--as is the amount of garlic."
Ingredients
2 lbs red snapper fillets ( about 6 - 8 fillets)

2/3 cup olive oil

3/4 cup white wine

2 tablespoons white wine vinegar

1 cup parsley, fresh, roughly chopped

1 small onion, finely chopped

4 garlic cloves, coarsely chopped

1 teaspoon salt ( sea or kosher)

1/2 teaspoon pepper, freshly ground
Directions
Blot the fillets dry--really dry--to avoid a watery sauce.

In a blender, combine olive oil, wine, vinegar, parsley, onion, garlic, salt and pepper and blend on high until smooth.

In a large skillet, arrange the fish snugly in a single layer and pour the sauce over the fish.

If the fish won't fit in one layer, arrange the fish in two layers, pouring half the sauce over the first layer and the rest over the top.

Bring the sauce to a boil over high heat.

Immediately reduce the heat to low, partially cover the pan and gently simmer the fish for 15 to 20 minutes or until the fish flakes when pierced with a fork.

Cooking time depends on the thickness of your fillets; if they are thin, they will be done in less time.