Kittencal's Taco Salad for a Crowd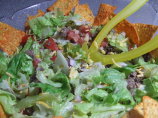 Photo by CountryLady
Prep Time: 30 mins
Total Time: 30 mins
Servings: 20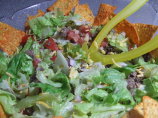 Photo by CountryLady
About This Recipe
"I have made this many times to serve at get togethers and I always receive rave reviews from everyone! if desired the amounts may reduced to half --- to save some time the beef may be cooked a day ahead, and refrigerated overnight as it must be cooled completely before adding the ingredients in with it, you may want to purchase two bags of nacho chips and use one to serve on the side --- when cooking the ground beef, I always try to leave it into larger size chunks, it looks better in the salad, really you may use any size bag of nachos that you like, the 12 cups size is only estimated, you can add any amount desired in with the ground beef/salad mixture, just make sure to add them just before serving as they tend to get soggy --- see my Kittencal's Taco Seasoning Mix -- I sometimes add in a can of drained and rinsed black beans :)"
Ingredients
2 lbs lean ground beef

2 (1 1/4 ounce) packages taco seasoning mix

2 cups grated cheddar cheese

1 red onion, chopped

1 yellow onion, chopped

2 heads iceberg lettuce, chopped

4 tomatoes, chopped ( I use Roma)

2 avocados, peeled and chopped

1 1/2 cups black olives, sliced

12 cups nacho chips, 1 large ( I use Doritos)

1 (8 ounce) bottles Catalina dressing ( my recipe#241296 will also work well)
Directions
Brown ground beef with the chopped yellow onion (not red).

Add in only 1 package taco mix (and water according to the package direction); set aside to cool completely.

In a large bowl, mix together chopped lettuce, tomatoes, cheddar cheese (can use more than 2 cups if desired, and the cheese may be cubed small instead of shredded) avocados, red onion, olives, and the second package of taco seasoning mix.

Add to cooled beef mixture; toss to combine.

Just before serving toss with the salad dressing.

The last step (JUST BEFORE SERVING) is to mix in about three-quarters of the package of crushed Doritos, leaving the rest on the side for your guests who want extra (they will get soggy if you mix them in too early!).