Stir Fried Broccoli With Beef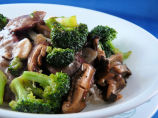 Photo by PaulaG
Prep Time: 20 mins
Total Time: 45 mins
Servings: 4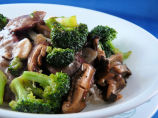 Photo by PaulaG
About This Recipe
"From Country Living magazine, this is a good recipe!"
Ingredients
1 lb beef flank steak, frozen slightly to make slicing easier

1 tablespoon soy sauce

3 tablespoons olive oil

1 teaspoon cornstarch, plus

1 tablespoon cornstarch

1 1/2 teaspoons sugar

1 bunch broccoli ( 1 pound)

1/4 lb fresh shiitake mushroom, stems removed

2 green onions

1 cup water

2 tablespoons dry sherry

1 tablespoon fish sauce

1 teaspoon oriental sesame oil

1/4 teaspoon salt

1 tablespoon fresh ginger, peeled and shredded

2 garlic cloves, finely chopped
Directions
With a sharp knife, cut beef across the grain into slices about 3 inches long and 1/4 inch thick. In a bowl, combine the beef, soy sauce, 1 tbls. oil, 1 teaspoons cornstarch, and 1/2 teaspoons sugar; set aside to marinate 15 minutes.

Meanwhile, with paring knife, cut a thin slice off the bottom of each broccoli stalk and discard the dried end. Remove any leaves and, from cut end, pull thick, fibrous skin upward toward flowerets to remove. Cut broccoli flowerets off stalks into 2 1/2 inch lengths. Split broccoli flowerets lengthwise into thinner pieces if stalks are thicker than 1/2 inch. Cut remaining peeled stalks diagonally into thin slcies.Cut mushroom caps into 1/4 inch thick slices. Cut onions into 1 inch lengths; set vegetables aside.

In cup, combiine 1/2 cup water, the remaining 1 tbls. cornstarch and 1 teaspoons sugar, the sherry, fish sauce, sesame oil, and salt; set aside.

Just before serving, heat wok or large skillet over high heat until hot. Add 1 tbls. oil and swirl it around to coat bottom of the wok. Add ginger and, with slotted spoon, stir fry 15 seconds. Add slices of broccoli stalks and stir fry 2 minutes. Add remaining 1/2 cup water and place broccoli flowerets on top of stalks. Cover and reduce heat to simmer broccoli until crisp tender-about 3 minutes. Transfer broccoli and ginger with any remaining water to medium size bowl.

Reheat wok over high heat. Add remaining 1 tbls. oil and half of the marinated beef. Stir fry beef until lightly browned on all sides. Remove beef to bowl with broccoli. Add remaining beef and stir fry until browned. Remove to bowl. Set aside. Add mushrooms to wok and stir fry until juices are released and mushrooms are just tender. Remove to bowl.

Add garlic and green onions to wok; restir cornstarch mixture and pour into wok. Cook until thickened and bubbly. Return beef and broccoli mixture to wok; stir fry until coated with sauce. Transfer to serving dish and serve immediately. Enjoy!