Bavarian Apple Cheesecake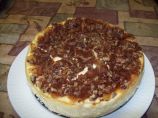 Photo by Aunt Jackson
Prep Time: 5 hrs
Total Time: 6 hrs
Servings: 12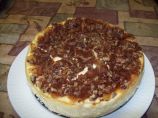 Photo by Aunt Jackson
About This Recipe
"I got this recipe from my niece. It's the best by far!!!!!"
Ingredients
1/3 cup sugar

1/3 cup butter or 1/3 cup margarine

1 tablespoon shortening

1/4 teaspoon vanilla

1 cup all-purpose flour

1/8 teaspoon salt

4 cups peeled cored, and sliced cooking apples ( such as Golder Delicious or Granny Smith)

2 (8 ounce) packages cream cheese, softened

1/2 cup sugar

1/2 teaspoon vanilla

2 eggs

1/3 cup sugar

1 teaspoon ground cinnamon

1/4 cup sliced almonds
Directions
In a medium mixer bowl beat the first 1/3 cup sugar, butter or shortening, and 1/4 tsp vanilla on medium speed of

electric mixer till combined.

Blend in flour and salt till crumbly.

Pat onto the bottom of a 9" springfor pan.

Set aside.

Place apple slices in a single layer in a shallow baking pan. Cover w/foil.

Bake in a 400 degree over for 15

minutes.

Meanwhile, for filling, in a large mixer bowl beat the cream cheese, the 1/2 cup sugar and the 1/2 tsp vanilla with an electric mixer till fluffy.

Add the eggs all at once, beating on low speed just till combined.

Pour into dough-lined pan.

Arrange warm apples slices atop

filling.

Combine the remaining 1/3 cup sugar and

cinnamon.

Sprinkle filling with the sugar mixture and the almonds.

Bake in a 400 degree oven for 40 minutes or till golden.

Cool.

Remove sides and place cake on serving

plate.

Cover; chill for 4 to 24 hours before serving.