Crock Pot Stuffed Cabbage Soup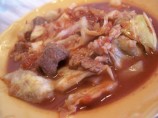 Photo by *Parsley*
Prep Time: 15 mins
Total Time: 10 hrs 15 mins
Servings: 6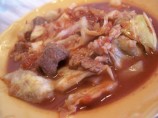 Photo by *Parsley*
About This Recipe
"A nice, easy dinner served with buttered rye bread. The wonderful flavor of stuffed cabbage without all the fuss."
Ingredients
1 tablespoon olive oil

1 1/2 lbs 90% lean ground beef or 1 1/2 lbs very lean stew meat

1 onion, finely chopped

28 ounces tomato juice or 28 ounces crushed tomatoes

2 beef bouillon cubes

2/3 cup barley (using barley instead of rice helps cut down on carbs) or 2/3 cup rice, rinsed & uncooked ( using barley instead of rice helps cut down on carbs)

2 teaspoons Splenda sugar substitute

2 -3 teaspoons sweet paprika

6 -12 garlic cloves, minced ( 1-2 tablespoons)

1 teaspoon pepper

1/4 teaspoon Tabasco sauce ( 2 shakes)

2 lbs cabbage, coarsely chopped ( 1 medium head)

3 (14 1/2 ounce) cans beef broth
Directions
In a pot, warm the oil over medium heat, and saute beef and onions until onions are soft and beef is browned (8 minutes).

Drain off the fat, and add the tomatoes, bouillon, barley, splenda, paprika, garlic, pepper, and tabasco; mix well.

Put the cabbage in the crock pot, and top with meat mixture (Do NOT stir); top with beef broth.

Cover and cook on LOW for 9 hours.

Stir soup well; continue to cook covered on LOW for another hour.