Anth's Favorite Chicken Pie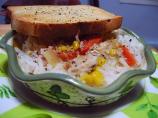 Photo by WaterMelon
Prep Time: 20 mins
Total Time: 40 mins
Servings: 2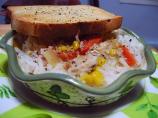 Photo by WaterMelon
About This Recipe
"It's a funny chicken pie with rice and uses white toast as the crust. My BF Anth loves it."
Ingredients
2 boneless skinless chicken breasts ( approx 150g)

2.46 ml salt

2.46 ml fresh ground black pepper

14.79 ml olive oil, divided

2 garlic cloves, minced

1 small yellow onion, chopped

1 (22 g) package cream of mushroom soup (3/4 oz, I used Campbell's) or 1 (22 g) package chicken soup powder ( 3/4 oz, I used Campbell's)

177.44 ml hot water

4.92 ml dried tarragon

2.46 ml dried oregano

59.14 ml carrot, chopped, partially cooked in the microwave for 2-3mins

59.14 ml frozen corn kernels, thawed

236.59 ml cooked rice ( I used long grain)

3 slice white bread

14.78 ml mayonnaise or 14.78 ml butter
Directions
Pound the chicken breasts with a meat mallet/rolling pin, between clingwrap, until quite thin.

Season with salt and pepper, rub them into meat with fingers.

Heat half of the olive oil in a skillet, over medium heat.

Once hot, pan-fry chicken for 1-2 minutes per side, until cooked; remove and cool slightly.

Cut chicken into bite-sized pieces and set aside (I use kitchen shears).

Meanwhile, heat the remaining olive oil in the same skillet.

Once hot, saute onions until translucent for approx 1 minute.

Add garlic and cook for another 30 seconds.

Add the cooked chicken pieces, stir well.

Dissolve soup mix in the 3/4 cup of hot water.

Add soup mixture, dried herbs, carrots and corn to skillet and let cook until thickened.

Place half of the chicken mixture in a ovenproof casserole or individual ramekins, top with rice then followed by the chicken again.

Spread mayo/butter on one side of the bread, then top the casserole/ramekins with bread, buttered side up.

Transfer to the oven and cook for 8-10mins at 375°C, until toast is browned.