Butterhorn Bread Machine Rolls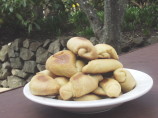 Photo by Marsha D.
Prep Time: 10 mins
Total Time: 25 mins
Yield: 24 rolls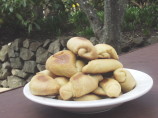 Photo by Marsha D.
About This Recipe
"My daughter's number one favorite food I make are these soft, buttery rolls from "Bread Machine Magic." I have made these a million times and could do it in my sleep. The dough is a cinch to work with and they turn out exactly the same every time. Leftovers are great with jam. This bread dough makes a delicious kid-friendly pizza crust, too. Cooking time does not reflect the rising time. Recipe from "Bread Machine Magic.""
Ingredients
3/4 cup milk

1 egg

3 cups all-purpose flour

1 teasoon salt

1/3 cup oil ( can use shortening, too)

1/3 cup sugar

2 1/4 teaspoons yeast ( or what your bread machine uses)

1 1/2 tablespoons melted butter
Directions
Place all ingredients except melted butter in pan.

Select Dough Only setting and press start.

When dough has risen long enough, the machine will beep.

Remove dough from pan.

Divide dough into 3 equal balls.

Roll out each ball, one at a time, into a 9 inch circle (don't worry if you can't get it exactly 9 inch).

(Note: I always start rolling my dough and let it rest for awhile and resume rolling. The resting helps relax the dough).

With pizza cutter (works great!)or sharp knife, divide each circle into 8 wedges, as if cutting a pizza.

Starting at the wide end, roll up each wedge toward the point.

Cover and place in a warm oven (turn oven onto warm setting for 2 minutes and turn off, to make a good environment for dough).

Let rise for 30 to 40 minutes until doubled.

Remove sheet from oven to preheat oven!

Preheat oven to 375 degrees.

Bake for 12-15 minutes until golden.

Remove from oven.

Brush rolls lightly with melted butter.