Sesame Encrusted Chicken Breasts With Ginger-soy Sauce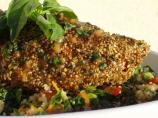 Photo by The Flying Chef
Prep Time: 15 mins
Total Time: 30 mins
Servings: 4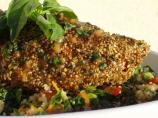 Photo by The Flying Chef
About This Recipe
"Serve this on a bed of steamed rice or couscous. Be careful when browning the chicken, not to let it burn. That's why it's finished off in the oven. Enjoy this wonderful recipe from Cooking with Caprial-American Bistro Fare!"
Ingredients
4 boneless skinless chicken breasts, 6 ounces each

salt and black pepper

1 cup sesame seeds

1/2 teaspoon chili flakes

1 tablespoon vegetable oil

Sauce

1 teaspoon vegetable oil

4 garlic cloves, chopped

1 tablespoon chopped gingerroot

1/2 cup wine, mirin ( or any good rice wine)

1 cup chicken stock

1 tablespoon hoisin sauce

2 tablespoons Asian chili sauce

1/2 teaspoon dark sesame oil

1 teaspoon fresh basil, chopped

soy sauce
Directions
Preheat oven to 350*F. For the chicken breasts, season chicken with salt and pepper. In a small bowl, mix sesame seeds and chile flakes and then dredge the chicken breasts in the mixture to coat them. Heat vegetable oil in a large saute pan until smoking hot. Add chicken brests and brown each side well, about 2 minutes per side.

Remove chicken from pan and transfer to a baking pan. Bake for another 3 to 5 minutes until the chicken breasts are just cooked through.

For the sauce,while the chicken breasts are baking, heat veg. oil in the same pan you removed them from. Add the garlic and gingerroot and saute until you can smell the aroma, 1 to 2 minutes over high heat. Add mirin wine and boil over high heat until reduced by half, 2 to 3 minutes. Add chicken stock and boil over high heat to reduce a bit, 2 to 3 minutes.

If the chicken breasts are finished cooking by this time, remove them from the oven and allow to stand. Add hoisin sauce and chile sauce to saute pan and bring to a boil. Season with sesame oil, basil, and soy sauce.

Serve chicken breasts over steamed rice or couscous. Serve half of the sauce over the chicken and the remainder on the side. This will not be a very thick sauce; it is meant to be thin and light. Enjoy!