Kittencal's Famous Caesar Salad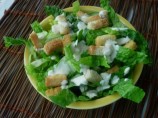 Photo by Loves2Teach
Prep Time: 5 mins
Total Time: 5 mins
Servings: 4-6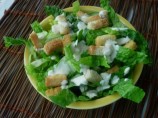 Photo by Loves2Teach
About This Recipe
"I developed this dressing years ago, and I can honestly say that you won't be able to keep your spoon out of the fridge for a taste, it is *that* good! --- although I do think the dressing is better with the anchovy it can certainly be made without them. In a pinch I have even substituted buttermilk for the half and half cream, just use about the same amount --- this dressing gets stronger with refrigeration time so a small amount of fresh garlic goes a long way! ---- usually one recipe without doubling is perfect for one large romaine lettuce, if you are serving a large crowd of people you might want to double -- salad dressing will not work for this use *only* mayonnaise, I find Hellman's brand mayonnaise works the best and for the perfect companion to this salad see my Kittencal's Garlic Croutons-------------LOWER-FAT OPTION use reduced fat mayonnaise and fat-free half and half or low-fat milk --- also see my Kittencal's Famous Greek Salad"
Ingredients
1 large head romaine lettuce ( washed over and thoroughly dried)

1 1/2 cups garlic-flavored croutons ( or to taste, see recipe#125034)

parmesan cheese

freshly grated black pepper ( to taste)

DRESSING

2 anchovy fillets ( or to taste)

2 fresh garlic cloves ( or to taste)

1 cup mayonnaise ( not salad dressing Hellman's is best)

1/4 cup half-and-half cream or 1/4 cup milk

1/3 cup grated parmesan cheese

2 tablespoons fresh squeezed lemon juice

1 tablespoon Dijon mustard ( Hellman's Dijonnaise is best!)

salt and pepper

2 teaspoons Worcestershire sauce ( or to taste) (optional)

buttermilk or half-and-half, for thinning
Directions
In a small 2-cup mini food processor, process/mince the anchovy fillets and garlic together until finely minced (do this together and firstly, otherwise it will not get minced properly with the other ingredients).

Add in the remaining ingredients, and process for 30 seconds, or more until well mixed.

Adjust seasonings to taste.

Thin with buttermilk (or milk) for a thinner consistency if desired.

Store in fridge, covered in a glass container for 3 or more hours before using (the flavors become stronger when left in the fridge for a longer time).

Toss desired amount of dressing with Romaine lettuce and croutons.

Sprinkle with more grated Parmesan cheese if desired.