Smashing Potatoes and Spinach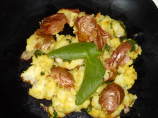 Photo by Kelly M.
Prep Time: 10 mins
Total Time: 35 mins
Servings: 2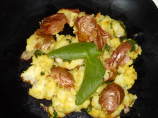 Photo by Kelly M.
About This Recipe
"Roasted new potatoes and spinach with bold spices. Easy to prepare. This recipe was created for the Ready, Set, Cook! contest."
Ingredients
12 small small red potatoes, cleaned and skin left on ( about 2-inch diameter)

1/4 cup olive oil

1/2 teaspoon salt

2 tablespoons lemon juice

2 tablespoons dry white wine

1/2 teaspoon ground coriander

1 teaspoon garam masala

1/2 teaspoon sugar

1/2 cup olive oil

1/4 cup red onion, finely chopped

2 cups baby fresh spinach leaves, loosely packed

additional salt
Directions
Preheat oven to 400 degrees F.

Place potatoes on cutting board and give them each one good whack with a meat mallet to crack them (or you could just prick them with a fork if you wish).

Place potatoes in large bowl and drizzle with 1/4 cup olive oil and sprinkle with salt, tossing well to coat.

Roast potatoes on shallow pan until tender, about 25 minutes depending on the size of your potatoes.

Mix lemon juice, wine, coriander, garam masala and sugar in a bowl.

Slowly whisk in remaining 1/2 cup of oil, whisking constantly to blend well and set aside.

When potatoes are near done, heat lemon and oil mixture in a skillet over medium heat, just to a low simmer.

Add the spinach and cook until just wilted, only a minute or two, and remove from heat.

Place the potatoes in a large bowl and smash them with a fork (and knife if necessary), breaking them apart into coarse pieces.

Sprinkle the red onion over the potatoes, then pour the spinach and vinaigrette mixture over the potatoes and toss thoroughly.

Be sure to taste them and season with more salt as needed.

Cover with foil and let stand about 5 minutes before serving.