Bbq (or Broiled) Flank Steak Sandwiches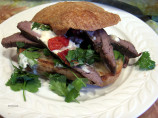 Photo by Derf
Prep Time: 15 mins
Total Time: 27 mins
Servings: 4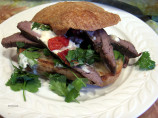 Photo by Derf
About This Recipe
"Delicious peppery watercress, horseradish and steak sandwich, (Marinating time not included in prep time.)"
Ingredients
Marinade

1 tablespoon grainy mustard

1 garlic clove, smashed

1/4 teaspoon pepper

1/4 cup red wine vinegar or 1/4 cup fresh lemon juice

2 tablespoons olive oil

1 teaspoon dried basil

1 tablespoon hot creamed horseradish

1 1/2 lbs flank steaks

Horseradish sauce

1/4 cup sour cream (we use no fat) or 1/4 cup plain yogurt ( we use no fat)

1/4 cup mayonnaise ( we use light mayonnaise)

2 tablespoons prepared horseradish ( we like hot creamed)

1 tablespoon grainy mustard

salt & freshly ground black pepper

2 roasted red peppers, rough chopped ( we used bottled)

1 garlic clove, smashed

4 -6 fresh basil leaves, rough chopped

1 bunch watercress or 1 bunch fresh cilantro, tough stems trimmed

1 tablespoon fresh lemon juice

1 tablespoon extra virgin olive oil

4 slices bread, thick sliced and toasted
Directions
Marinade:.

Whisk together Marinade ingredients in a small bowl, place in a zip top plastic bag; add flank steak. Seal the bag and massage the marinade all over the steak. Refrigerate for at least 3 hours, preferabley overnight.

Horseradish sauce:.

In a small bowl, whisk together sour cream , mayonnaise, horseradish and mustard.

Season with salt and pepper to taste.

Cover with plastic wrap; refrigerate while preparing steak.

In a small bowl mix roasted red peppers, garlic and basil leaves, set aside.

Heat broiler, if using, with rack 6 inches from heat.

Remove steak from marinade; shake off excess marinade and place on a roasting pan fitted with a rack, if broiling.

BBQ or broil 6 minutes on each side for medium rare. Let rest 5 minutes before slicing 1/4 inch thick against the grain.

Place watercress or cilantro in a bowl; toss with oil and the lemon juice. Season with salt and pepper.

Toast bread slices; place 1/4 watercress mixture on bottom slice of toast; place 1/4 of steak slices over watercress; drizzle horseradish sauce over steak; place 1/4 of roasted red pepper mixture over sauce; top with second slice of toast. Repeat for 4 sandwiches.

Enjoy!