Fresh Mozzarella, Tomato, and Basil Couscous Salad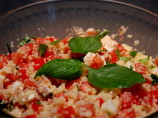 Photo by Chef #1803294537
Prep Time: 40 mins
Total Time: 45 mins
Servings: 5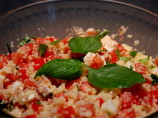 Photo by Chef #1803294537
About This Recipe
"A lovely light salad from Cooking Light! You're used to seeing the cheese/tomato/basil combination, but have you had it with couscous before? Delicious! Prep time includes marinating."
Ingredients
2 cups diced tomatoes

3/4 cup diced fresh mozzarella cheese ( about 3 ounces)

3 tablespoons minced shallots

2 teaspoons extra virgin olive oil

1/4 teaspoon lemon juice (white balsamic or champagne vinegar okay) or 1/4 teaspoon balsamic vinegar ( white balsamic or champagne vinegar okay)

1/2 teaspoon salt, to taste

1/4 teaspoon fresh ground black pepper or 1/4 teaspoon tricolor pepper, to taste

1 garlic clove, crushed and minced

1 1/4 cups water

1 cup uncooked couscous

1/4 cup chopped fresh basil

basil leaves, for garnish (optional)
Directions
In a large bowl combine the tomato, mozzarella, shallots, olive oil, lemon juice, salt, pepper, and garlic, toss well then refrigerate, covered, to marinate for 30 minutes.

In a saucepan bring the water to a boil and gradually stir in the couscous; remove from the stove, cover, and set aside for 5 minutes.

With a fork, fluff the couscous then let cool.

Add the cooled couscous and chopped basil to the tomato mixture in the bowl and toss.

Garnish with whole basil leaves and serve.

Note: part-skim mozzarella cheese can be substituted.