Open Face Ny Strip Philly Cheese Steaks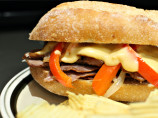 Photo by CulinaryExplorer
Prep Time: 1 hr
Total Time: 1 hr 45 mins
Yield: 60 hors d'ouevres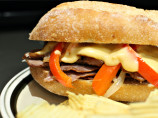 Photo by CulinaryExplorer
About This Recipe
"From Food Network Specials, this is special with a cheese sauce you have to taste! This makes wonderful hors d'ouevres for a party!"
Ingredients
1 baguette, about 2 feet long, throw thin ends away

1/4 cup extra virgin olive oil, plus

extra extra virgin olive oil, for drizzling

salt & freshly ground black pepper

1 medium onion, diced small

1 small red bell pepper, diced finely

1 (1 lb) New York strip steak, steak 1-inch thick

Cheese Sauce

3 tablespoons unsalted butter

3 tablespoons all-purpose flour

2 cups whole milk

1 tablespoon Dijon mustard

1 tablespoon drained prepared horseradish

1 teaspoon kosher salt

1/2 teaspoon sweet paprika

1/8 teaspoon cayenne pepper, to taste

fresh ground white pepper

1 pinch freshly ground nutmeg

1 cup grated yellow cheddar cheese

1 tablespoon grated parmigiano-reggiano cheese
Directions
Preheat oven to 400 degrees F.

Slice the baguette into 1/4-inch thick rounds, drizzle with oil, season with salt and pepper. Spread on a baking sheet, and bake until crisp and lightly golden, about 6 minutes. Transfer to a rack and cool in a single layer.

Heat 2 tablespoons oil in a large skillet over medium heat. Add onions and peppers and cook, stirring often, until onions are golden brown and peppers are tender.

Season steak with salt and pepper. In another large skillet, heat remaining 2 tablespoons oil over medium-high heat. Add steak and cook about 6 minutes per side, or until a meat thermometer registers 120 degrees F. Set aside to cool. Slice the steak "paper thin" (a slicer is great for this). Keep warm until ready to assemble.

To assemble:

Lay a slice of meat on each slice of baguette toast and top with 1 teaspoon of caramelized onions and peppers and a drizzle of the cheese sauce. Serve. Enjoy!

Cheese Sauce:.

Melt the butter in a medium saucepan over medium heat. Stir in the flour with a wooden spoon and cook stirring constantly in a figure 8, until pale yellow, about 1 minute. Slowly whisk in the milk and bring to a boil. Add the mustard, horseradish, salt, paprika, cayenne, white pepper, and nutmeg. Reduce the heat to maintain a simmer and cook, stirring constantly, until thickened, about 6 to 8 minutes. Remove from the heat and whisk in the cheeses. Set aside and keep warm.

Yield: about 2 cups.