Quick and Easy Spicy Sausage & Bean Soup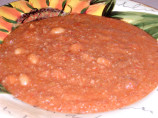 Photo by Rita~
Prep Time: 10 mins
Total Time: 50 mins
Servings: 4-6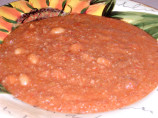 Photo by Rita~
About This Recipe
"It was pouring rain today and cold; perfect soup weather, but not having a full pantry this is what i came up with using leftovers from Easter. Most of the ingredients were already cut and sausage was cooked. (bagged cut carrots from the grocery store) Also having my toddler daughter literally clinging to me all day it had to be super quick and simple. This is a very thrown together recipe and im sure could use improvements and / or changes but for as simple as it was it tasted very good to me. prep time doesnt include cooking the sausage."
Ingredients
1/2 lb hot Italian sausage, cooked and cut into small pieces ( use mild sausage if you don't like spicy soup)

1 tablespoon olive oil

1 tablespoon garlic powder

1/2 medium vidalia onion ( no need to cut it up)

1 cup pre-cut carrot

2 (8 ounce) cans beef broth

2 tablespoons tomato paste

1 (8 ounce) cans cannellini beans, drained and rinsed

1 teaspoon crushed red pepper flakes ( optional for added heat)

1/2 teaspoon salt

1/2 teaspoon black pepper

1 1/2 cups water
Directions
In a large soup pot, put olive oil and garlic powder.

Cook on low for about 3 minutes.

Add everything else to the pot.

Bring to boil.

Simmer for 25 minutes.

Using a slotted spoon, take out all veggies meats and most of the beans and place in blender to puree. you may need to put some of the broth in the blender too to help it along.

Return puree back to soup pot.

Simmer 10 minutes more stirring well to blend puree and liquid well.