Risotto With Parmigiano-Reggiano in a Crock Pot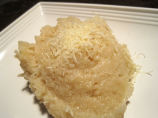 Photo by Sandi (From CA)
Prep Time: 15 mins
Total Time: 2 hrs 15 mins
Servings: 6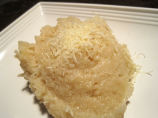 Photo by Sandi (From CA)
About This Recipe
"Inspired by a favorite dish at a Scottsdale, AZ restaurant. It's the Basil Olive Oil used in the dish that makes it so yummy. I love Risotto but oh, the stirring and stirring... Here is a crockpot version that works great!! This recipe works as a terrific side dish but you can add other items to make it a complete meal in itself, such as shrimp etc.. I hope some of you will attempt this version."
Ingredients
1/4 cup basil olive oil, plus

little extra basil olive oil

2 shallots, peeled and minced

1 1/4 cups arborio rice

1/4 cup dry white wine

3 3/4 cups low sodium chicken broth

1 teaspoon salt

1/2 cup of freshly grated parmigiano-reggiano cheese, pricy but worth it ( this is a must)
Directions
Heat the basil oil in a saute pan over medium heat and saute the shallots until they have softened.

Lightly coat the insert of crock pot with some extra basil olive oil.

Add the sauted shallots and basil oil to the crockpot insert.

Add the rice and coat it with the mixture.

Stir in the wine.

Stir in the chicken broth.

Add the salt.

Cover and cook on high for about 2 hours or until all the liquid is absorbed.

Just before serving, stir in the cheese.

Have extra grated cheese to put on top of each serving.

If I was going to add shrimp, chicken, corn, salmon etc.

,I would add it after the cheese had been stirred in, allowing just enough time to warm up the item but not to overcook it.