Bergy Dim Sum #9, SteamedRice Bundles with Chicken and mushrooms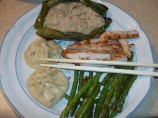 Photo by Lucky13
Prep Time: 15 mins
Total Time: 1 hr 45 mins
Serves: 8-10, Yield: 8.0 Bundles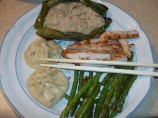 Photo by Lucky13
About This Recipe
"With any Dim Sum meal you always have some form of rice. Other sticky rice recipes would also be good. These steamed rice bundles go well with any Chinese meal. The rice is sticky and very flavorful from the other ingredients"
Ingredients
1 lb medium grain rice

4 cups water

2 tablespoons light soy sauce

3 teaspoons sesame oil

6 dried Chinese mushrooms, soaked in hot water for 30 min,reserve 1 1/2 cup of the soaking water

1 tablespoon dark soy sauce

2 teaspoons sugar

2 boneless skinless chicken breasts, diced finely

8 ounces pork, minced

1 clove garlic, crushed

1/2 teaspoon fresh grated ginger

1 teaspoon salt

1 1/2 cups water ( saved from soaking the dry mushrooms)

2 teaspoons cornstarch

bamboo leaves or corn husks or lotus leaves or aluminum foil

string ( for tying the bundles)
Directions
Put rice ia a saucepan cover with the 4 cups of water, add light soy sauceand 1 teasp of sesame oil.

Bring to boil quickly, then turn heat to low cover and cook for 15 minutes.

While the rice cooks soak the mushrooms in very hot water for 30 minutes (remember to save 1 1/2 cups of the soaking water).

Cut off the mushroom stems and discard, slice the caps and put them in a saucepan with 3/4 cup of the soaking water, the dark soysauce and 2 teasp sesame oil.

Add chicken and pork to the saucepan along with the garlic, ginger and salt.

Add up to 1/2 cup of the mushroom water and mix the ingredients.

Cover and simmer 5 minutes.

Thicken gravy with the cornstarch (mix cornstarch with a little cold water or mushroom water before adding to the saucepan).

Cook until gravy has thickened.

Let the mixture cool and then gently mix with the cooked rice.

Take 3/4 cup portions and place on the wrap of your choice.

Wrap very securely and tie with string to ensure the bundle will not leak (if using tinfoil you do not need string but wrap and double fold all seams).

Steam for 25 minutes.

Serve warm, cold or reheated.