The Lady's Coleslaw (Paula Deen)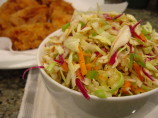 Photo by Sharlene~W
Prep Time: 30 mins
Total Time: 1 hr 30 mins
Servings: 6-8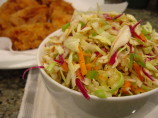 Photo by Sharlene~W
About This Recipe
"There are about as many coleslaw recipes as there are people. I myself like a variety coleslaws. I especially like the sweetness of this recipe from Paula Deen of the Food Network. The texture is also interesting as most of the ingredients are chopped in the food processor and half the cabbage is shredded. I think you can use a little more cabbage than the recipe calls for. I also like to mix in red cabbage for lots of color. (Cooking time listed is time standing in refrigerator)."
Ingredients
1/2 bell pepper, cut into chunks

1 green onion, cut into chunks

1/2 large carrot, sliced in 1 inch slices

1/8 cup chopped fresh parsley leaves

1 head cabbage ( divided)

1/2 cup mayonnaise

1/2 teaspoon seasoning salt ( Jane's Krazy Mixed-up salt recommended)

1/4 teaspoon fresh coarse ground black pepper

2 tablespoons sugar

1/4 teaspoon lemon-pepper seasoning

1 tablespoon white vinegar
Directions
Using a food processor, gently process the bell pepper, onion, carrot, and parsley, being careful not to over process.

Put processed vegetables into serving bowl.

Cut 1/2 of the cabbage into chunks and process in food processor being careful not to cut too small.

Shred the remaining half head of cabbage.

Mix cabbage with processed vegetables.

In a small bowl, mix mayonnaise, seasoning salt, pepper, sugar, lemon-pepper and vinegar together.

Mix dressing into vegetables and toss well.

Chill for at least 1 hour.

Toss again before serving.