Rice in a Jar--4 Versions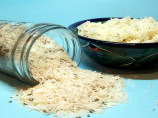 Photo by PaulaG
Prep Time: 15 mins
Total Time: 15 mins
Servings: 32-48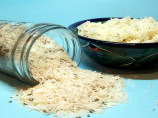 Photo by PaulaG
About This Recipe
"Give 1 of each rice mixture to one person or individual recipes to different people. Tie a festive ribbon around each jar or baggie and a tag or card with a message that includes THE FOLLOWING INSTRUCTIONS: "To cook, combine the rice mixture, 2 cups of cold water and 1 Tbs butter in a heavy saucepan. Bring to a boil over high heat. Cover and cook over low heat 15 minutes or until liquid is absorbed. Makes 4-6 servings." I got this recipe years ago from a book of "gifts from the kitchen" from the 1970s or 1980s. One recipe each of all 4 mixtures makes 2 gifts yielding 4-6 servings, so the way I came up with total servings is 4 x 2 x (4 to 6) = 32 to 48. (Also good to keep for yourself for when you're in a hurry or to take camping.)"
Ingredients
ONION RICE MIX

2 cups uncooked white rice

1 envelope onion soup mix

1 teaspoon dried parsley

1/2 teaspoon salt

LEMON-DILL RICE MIX

2 cups white rice

3 teaspoons bottled dried lemon peel

2 teaspoons dried dill

1 teaspoon dried chives

1 teaspoon salt

4 teaspoons chicken bouillon powder

VEGETABLE RICE MIX

2 cups white rice

4 teaspoons vegetarian bouillon powder

1 teaspoon salt

2 teaspoons dried celery flakes

2 teaspoons onion flakes

2 teaspoons green pepper flakes

2 teaspoons red bell pepper flakes

SPANISH RICE MIX

2 cups white rice

1/4 green bell pepper flakes

2 teaspoons parsley flakes

2 teaspoons salt

1/2 teaspoon dried basil
Directions
FOR EACH TYPE OF RICE MIX:.

Mix together all ingredients.

Divide in half and store in tightly closed plastic bags or jars with tight-fitting lids.

Each package or jar should contain approximately 1 cup plus 3 Tbs of rice mixture.

Wrap with a colorful ribbon or decorate however you like.