Chicken Salad With Cranberry/Lemon Jello Topping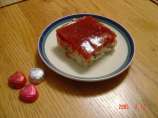 Photo by Chef Doozer
Prep Time: 14 hrs
Total Time: 14 hrs
Servings: 9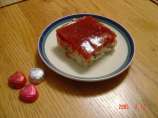 Photo by Chef Doozer
About This Recipe
"This recipe is perfect for women's luncheons or just to serve for a gathering of friends. Everyone loves it! It's a refreshing way to spice up chicken salad. I serve it with croissants and fresh fruit."
Ingredients
1 (7 g) envelopes knox gelatin

1/4 cup cold water

1/4 cup boiling water

2 cups cooked chicken, chopped

1 cup chopped celery

1 cup mayonnaise

2 tablespoons dried onion flakes or 2 tablespoons fresh onions

1 (3 ounce) boxes lemon Jell-O gelatin

3/4 cup boiling water

1 (15 ounce) cans jellied cranberry sauce

1/4 cup orange juice
Directions
Soften 1 envelope of Knox gelatin in 1/4 cold water.

Add 1/4 cup boiling water.

Stir until dissolved.

Add chicken, mayo, celery, and onion.

Mix well and pour into an 8 by 8 or 9 by 9 pan.

Chill while you prepare the topping.

Mix lemon jello, boiling water, cranberry sauce, and orange juice.

Spoon over the chicken pan mixture.

Refrigerate overnight.

A double recipe can be made in a 9 by 13 pan.