Senegalese Chicken and Peanut Soup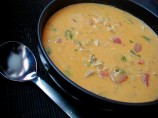 Photo by Ms B.
Prep Time: 20 mins
Total Time: 1 hr
Servings: 4-6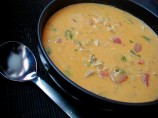 Photo by Ms B.
About This Recipe
"This is an award winning soup recipe. The soup should be silky and smooth but not thick; it should be spicy, but not too hot; it should have a sharpness of tomato and lemon, but not be sour; it should taste of peanuts, but not of peanut butter. It freezes beautifully. Note - I just adopted this one -- it was originally posted by my friend Mean Chef -- the intro is perfect and is exactly what you should be tasting in the final product! :-)"
Ingredients
1 large onion, chopped

2 garlic cloves, minced

1/4 teaspoon cayenne

2 tablespoons vegetable oil

1/4 cup curry powder

1 tablespoon yellow curry paste

1 quart chicken stock

1 quart diced tomatoes with juice

4 cups cooked chicken, diced ( I used one whole cooked chicken)

3/4 teaspoon sambal oelek chili paste ( red chile paste)

1 cup chunky peanut butter

1 (14 ounce) cans coconut milk

1 bunch cilantro, chopped

lemon juice, to taste ( I used the juice of 1 small lemon)
Directions
Saute onion, garlic and cayenne in oil until onion is translucent.

Stir in curry powder and curry paste; saute 1 minute.

Add chicken stock and tomatoes in juice; bring to a boil, then simmer for 15 minutes.

Add cooked chicken and sambal; simmer for 10 minutes.

Whisk in peanut butter a little at a time until incorporated; add coconut milk and stir to incorporate.

Turn soup to low and add cilantro and lemon juice to brighten the taste; check seasoning.