Al Roker's Steaks As Big As Your Head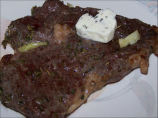 Photo by kzbhansen
Prep Time: 15 mins
Total Time: 600 hrs 15 mins
Servings: 4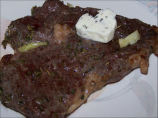 Photo by kzbhansen
About This Recipe
"I think this was from before he lost all that weight! This is the most flavorful and delicious steak meal that I've ever had. The compound butter doesn't HAVE to be formed but it makes for a nice presentation. There will be left over compound butter. (great slathered on nice crusty warm bread) Courtesy of Al Roker. (prep/cooking times do not account for marinating and resting of meat)"
Ingredients
Steaks

4 large rib eye steaks ( aka Delmonico's)

3 tablespoons chopped fresh rosemary

1/4 cup olive oil

6 garlic cloves, sliced thinly

salt and pepper

Compound Butter

1/4 lb salted butter ( 1 stick)

1 tablespoon chopped fresh rosemary

1 tablespoon orange zest

1/2 teaspoon fresh cracked black pepper
Directions
Up to one day ahead: Soften butter a bit but not quite to room temperature.

Mix in the chopped rosemary, orange zest and pepper.

Shape into a log on a sheet of waxed paper.

Seal the ends and refrigerate.

(best done at least an hour before serving).

Place steaks in a large container with the first 4 ingredients.

Turn to coat.

Cover and marinate in the refrigerate for at least 2 hours, turning occasionally.

Prepare grill to high heat.

Do not wipe the garlic pices off the steaks.

Grill steaks to desired doneness, adding some of the garlic and rosemary from the marinade as you grill.

Allow steaks to rest, covered 5 minutes before serving.

Slice compound butter into approximately 1 Tablespoon sized disks.

Serve Steak topped with a disk of the butter.

Call the cardiologist.