Browned Eggplant (Aubergine) With Yogurt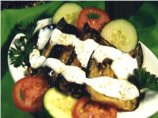 Photo by Chef Nawal
Prep Time: 5 mins
Total Time: 15 mins
Servings: 4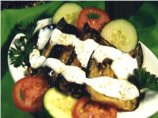 Photo by Chef Nawal
About This Recipe
"Pairing fried eggplant with yogurt and garlic is one of the favorite ways of serving eggplant in Iraq. It is a simple and beautiful dish, great for hot summer days."
Ingredients
1 large eggplant ( about 1 1/2 pounds)

1/4 cup olive oil, for oven frying eggplant

1 1/2 cups plain low-fat yogurt

1 garlic clove, grated

1/2 teaspoon salt

1/4 teaspoon ground cumin

1/4 teaspoon coriander powder
Directions
Wash eggplant, cut off stem and peel it into stripes.

Cut crosswise into 2 parts, then cut each part lengthwise into 1/4-inch-thick pieces.

Soak eggplant pieces in warm salted water for about 1/2 hour.

Put a heavy plate on the pieces to keep them submerged.

Drain eggplant pieces.

Brush pieces lightly with olive oil, and arrange them in a cookie sheet in one layer.

Broil them in the oven, turning once.

About 10 minutes.

Mix together yogurt, garlic, salt, cumin and coriander.

On a flat big platter, arrange eggplant pieces in a single layer (pieces may overlap a little).

Spoon yogurt mixture all over the eggplant.

Sprinkle with chili, and garnish with parsley and tomato.

Serve with warm bread.

If the amount is more than you can consume in one sitting, refrigerate eggplant pieces and yogurt in two separate containers.

Combine and garnish just before serving.