Pasta With Prosciutto in a Lemon Cream Sauce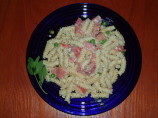 Photo by Hungry Chefs
Prep Time: 15 mins
Total Time: 25 mins
Servings: 4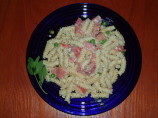 Photo by Hungry Chefs
About This Recipe
"My mom found this recipe years ago, and since then it has been a favorite among my own family and with anyone who got my mom to give up the recipe :) ... So flavorful, you too will not only enjoy this but never truly be able to get enough of it!"
Ingredients
2 tablespoons butter

3 large shallots, minced

3/4 cup low sodium chicken broth

1 cup whipping cream

2 teaspoons grated fresh lemon rind

1 teaspoon orange zest

1/4 teaspoon cayenne pepper

1 -2 cup frozen green pea, thawed

2 teaspoons thinly sliced fresh mint leaves

1 tablespoon fresh lemon juice ( 1 lemon)

1 lb penne pasta

1/2 lb prosciutto ( 12 thin slices)
Directions
Melt butter.

Add shallots and sauté until translucent (about 2 min.).

Add broth.

Simmer over medium-hi heat until reduced to 1/4 cup (about 2 minutes).

Add cream, lemon peel, orange peel, and cayenne.

Simmer until sauce thickens slightly (about 3 minutes).

Add peas.

Simmer until heated through (about 2 minutes).

Stir in mint and lemon juice.

Meanwhile, cook pasta.

Cut up prosciutto into bite-size pieces (approx. 1-2 square inches) and add at end to mixture.

Mix cream sauce with pasta.

Sprinkle fresh Parmesan on top.