Durkee Famous Sauce Clone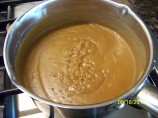 Photo by Mo K.
Prep Time: 10 mins
Total Time: 25 mins
Yield: 2 cups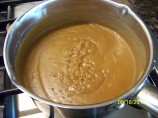 Photo by Mo K.
About This Recipe
"This wonderful tasting, versatile sauce has been a secret ingredient in many southern recipes for as long as I can remember. It was originally patented in 1857. It is used in potato salad, cole slaw dressing, remoulade sauce, egg salads and various other salad/dressing recipes. We love it spread on bread for turkey sandwiches. While the "real deal" is still available at grocery stores in southern states, I understand it is becoming very difficult to find elsewhere. I suspect it will eventually become one of those extinct products that we will reminisce some day. I found several copycat recipes on the net but this one works best for me."
Ingredients
1/2 cup cold water

4 tablespoons cornstarch

1/2 cup balsamic vinegar, plus

2 tablespoons balsamic vinegar

1 tablespoon salt, plus

2 teaspoons salt

1/2 cup sugar

1 egg

4 tablespoons prepared mustard

4 tablespoons unsalted butter
Directions
Put all ingredients, except for the butter, into your blender.

Blend on high speed about 2 minutes or until mixture is smooth.

Pour into top pan of a double boiler.

Cook over gently boiling water.

As sauce begins to heat, add butter, stirring often to incorporate.

Cook for 12-15 minutes (stirring often) or until sauce becomes thick and smooth.

Remove from heat and allow to cool.

Cooled sauce may be run thru blender, again, on high speed for about a minute till smooth.

Refrigerate sauce in covered container for several hours before using.

Will keep, refrigerated, about 1 month.