Dulcet's Chinese Chicken Salad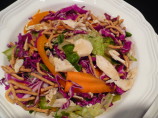 Photo by Chef RZ Fan
Prep Time: 20 mins
Total Time: 20 mins
Servings: 2-6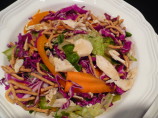 Photo by Chef RZ Fan
About This Recipe
"This is one the most colorful and beautiful salads I have ever made. It is full of anti-oxidants, vitamins and is also low carb. You absolutely cannot substitute the sauce...it makes the salad. It is made locally near where I live so I don't know how widely distributed it is...but they have a website to check the nearest place you can find it. There website is www.dulcetcuisine.com. It is an all natural sauce with no preservatives. Preparation of this salad is made very simple if you have a Cuisineart food processor. I made mine without bean sprouts and snap peas, as I did not have them on hand and it was wonderful. The recipe says that it serves 2, but my husband and I both had two bowls for dinner and had at least 3 servings left over."
Ingredients
1 lb cooked chicken, bite size pieces

1/2 head green leaf lettuce ( I used iceberg and it was still good)

1/4 head purple cabbage

1 large carrot

1 stalk celery

1 red pepper

1/2 cup snap peas

1/2 cup bean sprouts

1/3 cup dulcet asian-style dressing

wonton wrapper, cut into strips and fried until crisp (optional)
Directions
Shred the cabbage and carrots.

Slice pepper, snap peas and celery diagonally.

Cut lettuce so it looks like confetti.

Toss all vegetables and lettuce with Dulcet Asian Dressing.

Top with chicken.

Sprinkle wontons over top if using.