Godiva Devilishly Hot-Hot Chocolate With Cayenne Whipped Cream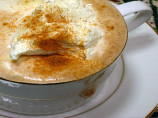 Photo by - Carla -
Prep Time: 5 mins
Total Time: 15 mins
Servings: 4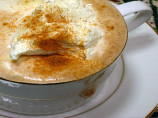 Photo by - Carla -
About This Recipe
"Ahhhhh, Thank Godiva! I sometimes like to add a dollop of Godiva Chocolate Liquer to each cup before pouring the hot chocolate, just to give it an extra little Umph."
Ingredients
Hot Chocolate

4 (1 1/2 ounce) Godiva dark chocolate bars, chopped

1/2 cup water

3 cups whole milk

8 whole cloves

4 cinnamon sticks

1 dash cayenne pepper

1/2 cup granulated sugar

1/2 cup heavy cream

1 teaspoon vanilla extract

Cayenne Whipped Cream

1/2 cup heavy cream

1 tablespoon confectioners' sugar

1/4 teaspoon vanilla extract

1 pinch cayenne pepper
Directions
HOT CHOCOLATE:.

Place chocolate and water in microwave-safe bowl and microwave on medium (50% power) 1 minute; Stir.

Microwave an additional minute more or until chocolate softens, stir until smooth; let cool.

Combine milk, cloves, cinnamon sticks & cayenne pepper in a saucepan.

Warm milk mixture over medium heat until bubbles form around edge of pan.

Whisk chocolate mixture into milk.

Add sugar and bring to a boil.

Reduce heat and simmer for 5 minutes.

Strain mixture, reserving cinnamon sticks.

Rinse cinnamon sticks, pat dry and set aside for garnish.

Return mixture to saucepan and stir in cream.

Over low heat, heat to simmer.

Stir in vanilla extract.

CAYENNE WHIPPED CREAM:.

Combine all ingredients in bowl and whisk until stiff peaks form.

Pour hot chocolate into four mugs and serve immediately topped with Cayenne Whipped Cream and a cinnamon stick garnish.