Crock Pot Fat Free Refried Beans for the Freezer - OAMC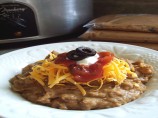 Photo by * Pamela *
Prep Time: 15 mins
Total Time: 10 hrs 15 mins
Yield: 2 quarts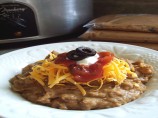 Photo by * Pamela *
About This Recipe
"It's nice to have some refried beans you can pull out of the freezer for a side with your Mexican meals without opening a can with all the extra fat. One side serving is 1/2 cup, which also makes about 4 tacos or burritos These are a great side dish, may also be used for burritos, and can be served as a main dish with plenty of shredded cheddar and salsa on top. Take the time and make these ahead. You won't be sorry!"
Ingredients
1 lb dried beans, soaked overnight

4 cups water

1 cup brewed coffee

3 minced garlic cloves, don't substitute powdered (optional)

1 onions, diced or 1 bunch fresh parsley or 1 bunch fresh cilantro or 1 cup celery & leaves, chopped with stems

1 tablespoon ground cumin

2 teaspoons chili powder

1 1/2 teaspoons oregano

1 teaspoon salt, to taste
Directions
Drain soaked beans and place in a crock pot along with remaining ingredients except salt. Make sure that the beans are covered with liquid by about 1".

Stir well, cover and cook on low all day, about 8-10 hours, until tender. Keep an eye on them and make sure they don't get dry.

Add salt.

Use a potato masher or heat safe (canning) jar bottom to mash well and stir with a wooden spoon.

Continue to mash and stir until desired consistency.

To freeze, put in a freezer Ziploc and flatten into a layer to freeze, or no more than 2" deep in freezer containers.