Cousin Jim's Amazing Apple Pie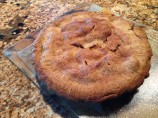 Photo by bamboosmom
Prep Time: 40 mins
Total Time: 1 hr 45 mins
Serves: 8, Yield: 1 9" pie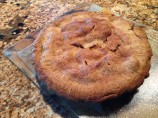 Photo by bamboosmom
About This Recipe
"This is the best apple pie I have EVER had. This is one of those pies where everything just blends together on the palate beautifully and makes your mouth want more. I was not an apple pie fan until I tasted this! It is better than ANY bakery, restaurant, or grocery store bought (duh) apple pie I've tried. OH - and by the way, it is worth the effort to roll out the dough...Mmm, Mmm! You can use this light, flaky dough with TONS of other fruit pies."
Ingredients
Apple Mixture

6 -7 large granny smith apples

1 cup brown sugar

1/2 cup sugar

2 tablespoons all-purpose flour

1/2 teaspoon vanilla extract

1 teaspoon ground cinnamon

1/8 teaspoon ground nutmeg

Pie Dough

2/3 cup shortening

2 cups all-purpose flour

1 teaspoon salt

1/3 cup ice water

Finish

2 tablespoons butter or 2 tablespoons margarine, to taste

3 -4 tablespoons sugar, to taste
Directions
PREPARE THE APPLES: Peel, Core, and slice apples thinly, and place in a large bowl.

Cover apples with sugars, flour, vanilla, and spices, and Mix well with apples; Set aside.

At this point, PREHEAT OVEN to 350°.

PREPARE THE DOUGH: Mix Salt, Flour, and Shortening in mixer- then add ice cold water.

Remove dough, divide in half, and roll out one half using flour to keep from sticking- Reserve the other half for top crust.

Line 9 inch pie pan with half dough; Allow 1/4 inch extra dough to stick out- you'll pinch it with the top crust later.

Put apple mixture into crust-lined pan.

Roll out top crust and cover apples.

FINISH THE PIE: Gently Pinch bottom and top crusts together, and Flute edges of dough (make it pretty).

Poke several fork holes in top crust, and Dot crust with butter and Sprinkle with sugar.

Bake at 350° for 65-70 minutes.

Allow to cool 20 minutes before serving plain or with vanilla bean ice cream, cool whip, or whipped cream; This also warms up great in the microwave.

And, by all means, ENJOY!