Polenta and Poached Eggs With Spinach and Mushrooms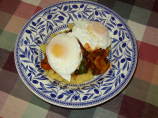 Photo by bikerchick
Prep Time: 25 mins
Total Time: 40 mins
Servings: 2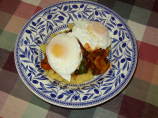 Photo by bikerchick
About This Recipe
"In an effort to remove most processed white stuff - flour and sugar - from my diet, have recently begun to experiment more with grains. One Sunday I was in the mood for something decadent like Eggs Benedict or Eggs Florentine and came up with this. Thought it was good enough for sharing. The recipe requires a bit of work so for convenience, one could make this with either store bought or left over polenta wedges. Country Lady has great instructions for making poached eggs (#79662) if you need more detail. This would work well for those in the later phases of the South Beach Diet."
Ingredients
1/2 cup yellow cornmeal ( I like course ground but use whatever you have)

1 1/4 cups water, divided

1/8 teaspoon salt

1/4 teaspoon dried basil

4 eggs, at room temperature

4 cups water

1 1/2 tablespoons white vinegar

1 1/2 teaspoons olive oil

1 clove garlic, minced

1/4 cup onion, finely diced

1 (10 ounce) packages frozen chopped spinach, thawed

1 cup mushroom, sliced

1 teaspoon balsamic vinegar

1 -1 1/2 cup spaghetti sauce ( jarred is fine)

2 tablespoons parmesan cheese, grated

salt and pepper
Directions
Bring 1 cup of water to boil and 1/8 teaspoon of salt to boil in a small sauce pan.

Stir 1/4 cup of cold water into the cornmeal so that it will form a paste; this helps prevent lumps in the polenta.

Whisk the cornmeal into the boiling water and reduce heat to a low simmer.

Add basil and continue to stir cornmeal occasionally for 15 minutes; if the polenta gets too thick, add more water.

In another pan, simmer 4 cups of water and white vinegar for poaching eggs.

Once the water reaches a simmer, carefully break eggs into water on at a time, spooning water in the eggs to help them form and retain their shape.

Depending on how you like your yolks, cook 3 to 5 minutes.

In a separate pan, begin to saute the onions and garlic in the olive oil for about 2 minutes.

Add the mushrooms and continue to cook another 2 minutes.

Wring the excess water from the thawed spinach and add to the onions, garlic and mushrooms.

Cook and additional 4-5 minutes.

Add spaghetti sauce and balsamic vinegar until sauce is heated through.

Season with salt and pepper to taste.

To assemble the dish, spoon the polenta onto 2 serving plates, top with the spinach mushroom sauce, and 2 eggs.

Garnish with Parmesan cheese.

Enjoy!