Rainbow Bean Soup Mix in a Quart Jar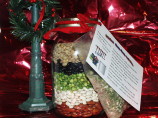 Photo by Marsha D.
Prep Time: 30 mins
Total Time: 30 mins
Servings: 12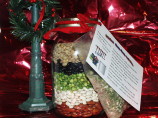 Photo by Marsha D.
About This Recipe
"This makes a great gift. I have made many welcome/gift baskets for my neighbors. When I give the gift, I add a can of crushed tomatoes and a package of soup crackers."
Ingredients
3/4 cup dried red beans

3/4 cup dried great northern beans

3/4 cup dried split peas

3/4 cup lentils ( Brown lentils are fine, but red lentils or yellow split peas make a real rainbow of colors in the ja)

3/4 cup dried black beans

Mix Together And Place In Ziploc Baggie

2 tablespoons dried onion flakes

2 tablespoons beef bouillon granules ( sold in soup section)

2 tablespoons dried parsley flakes

2 teaspoons dried basil

2 teaspoons sweetened lemonade drink mix

1 1/2 teaspoons chili powder

1 teaspoon garlic powder

1 teaspoon pepper

1 teaspoon dried oregano

Optional

canned ham ( a five-ounce can, if you choose this option, you will need to change the written instructions to rea)
Directions
Use a quart jar that has a wide mouth, but if you can't find one any quart jar will work.

Place each type of bean in jar in the order listed above.

Top with seasoning bag, gently flattened so it can be seen from all sides.

Place lid, decorate jar and attach recipe.

Put an expiration date: one year from time of assembly.

DIRECTIONS TO MAKE RAINBOW BEAN SOUP:.

Remove seasoning packet from the jar and set to the side. Rinse beans and place beans in large microwave-safe dish. Cover with water 1" to 2" over top of beans. Cover dish loosely with plastic wrap. Microwave on high for 15 minutes, rotating after 7 minutes. Drain and rinse beans very well; place in a large pot. Add 8 cups water, one 15 ounce can crushed tomatoes and seasonings from packet. Cover, bring to boil. Lower heat, cover pan and simmer 1 1/2 hours or until beans are tender. Stir occasionally.