Grilled Veggie and Cheese Sandwich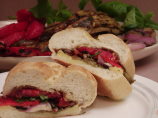 Photo by Rita~
Prep Time: 15 mins
Total Time: 35 mins
Servings: 4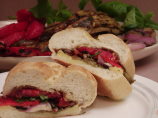 Photo by Rita~
About This Recipe
"This is a great way to use up the last of your garden. Just Bite into this Crunchy roll with tender crisp tomatoes, eggplant, peppers, onions, and mushrooms that's well seasoned with garlic, rosemary, & basil and creamy cheese. The cheese can be omitted for the Vegetarian or those that are lactose intolerant."
Ingredients
1/2 cup rosemary oil

1/3 cup balsamic vinegar

1 teaspoon seasoning salt

1 teaspoon sugar

1 teaspoon chopped fresh rosemary

6 cloves garlic, crushed

1 red onion, sliced thick

1 eggplant, peeled and slice

1 portabella mushroom, gills removed

1 red pepper, seed cut in 1/4 s

8 slices swiss cheese, of choice

4 fresh portuguese rolls

1 large tomatoes, sliced

8 basil leaves

balsamic vinegar, r to taste
Directions
Mix first 10 ingredients in a large gallon size bag.

Marinade for 1-4 hours.

On hot grill cook veggies till nice and browned and tender crisp about 20 minutes.

Remove and discard charred skin from peppers.

Cut mushroom, peppers into slices.

Arrange veggies on a platter along with the tomato slices& basil leaves.

Broil roll cut side up to brown.

Add 2 slices cheese to each to melt.

If you and your guests want to have fun let them arrange their own sandwich drizzled with some balsamic vinegar.

Or distribute ingredients yourself evenly among each roll.