Caramelized Apple Pecan Pie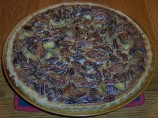 Photo by Hey Jude
Prep Time: 30 mins
Total Time: 1 hr 50 mins
Yield: 1 1inch pie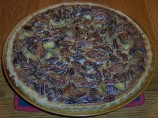 Photo by Hey Jude
About This Recipe
"A delicious pecan pie with granny smith apples. This makes a 10 inch pie."
Ingredients
1 prepared pie crust

2 cups pecans

3/4 cup butter

1/4 cup sugar

4 large granny smith apples

1 1/2 cups corn syrup

1 1/2 cups light brown sugar

2 tablespoons vanilla

2 tablespoons flour

6 large eggs, lightly beaten

2 tablespoons apple brandy (optional)
Directions
Melt and cool one stick of butter, set aside.

Peel and core the apples, cut into 1/2-inch diceed pieces.

Preheat the oven to 350 degrees and place pecans on a baking sheet; roast about 7 minutes, or until toasty; transfer to a plate to cool; Reduce oven heat to 325 degrees.

In a large, non-stick skillet, melt 4 tablespoons of the butter with the 1/4 sugar over high heat; add the apples, stirring frequently, cook until browned: Add brandy and cook until evaporated, let cool.

In a large bowl, combine brown sugar and corn syrup, flour and cooled melted butter; beat in eggs and vanilla.

Spoon caramelized apples into a ten inch pie crust; pour the custard over the top; scatter the pecans on the top of the custard, pressing in and pecans that protrude.

Bake for about 1 hour or until custard is set, If crust browns too quickly, cover loosley with a piece of foil (release foil works great), Best served with whipped mascarpone cheese or whipped cream.