Shrimp and Scallop Risotto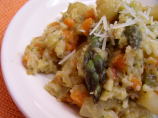 Photo by Bayhill
Prep Time: 30 mins
Total Time: 1 hr 5 mins
Servings: 4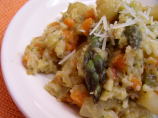 Photo by Bayhill
About This Recipe
"I got this from an old Reader's Digest cookbook. Haven't made it in years, but I just dug all my books out of the garage after moving, and remembered how great this one is!"
Ingredients
2 tablespoons butter

2 tablespoons olive oil

2 garlic cloves, minced

8 ounces medium shrimp, shelled, deveined and cut into 1/2 inch pieces

8 ounces bay scallops or 8 ounces sea scallops, cut into 1/2 inch pieces

1/4 cup minced parsley

1 large yellow onion, finely chopped

1 1/2 cups long grain white rice

2 cups chicken broth

1 cup water

1/2 teaspoon salt

1/4 teaspoon black pepper

2 stalks celery, coarsely chopped

2 medium carrots, peeled and coarsely chopped

1 large tomatoes, cored, peeled and chopped

8 ounces asparagus spears

1/2 cup grated parmesan cheese
Directions
Heat butter and oil in 6 quart pot on medium heat.

Add garlic and sauté for 1 minute.

Add shrimp, scallops, and parsley, and sauté, stirring often, for 3 minutes.

Transfer mixture to plate with slotted spoon.

In the drippings, sauté the onion until limp- about 5 minutes.

Stir in rice, broth, water, salt, and 1/8 tsp of the pepper.

Bring to a simmer, reduce heat to low, cover and cook 10 minutes.

Add celery, carrots and tomato, cover and simmer for 5 minutes.

Lay asparagus on top, cover and simmer 5 minutes longer or until asparagus and rice are tender.

Stir in seafood mixture and heat to serving temperature.

Stir in cheese and remaining pepper.