Refried Beans (crock Pot)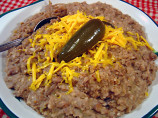 Photo by Sue Lau
Prep Time: 8 hrs
Total Time: 20 hrs
Servings: 8-12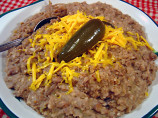 Photo by Sue Lau
About This Recipe
"Very easy to make! Makes a great side dish or filling for burritos. Enjoy!"
Ingredients
1 lb dried pinto bean

1 1/2 teaspoons salt

1 onion, chopped fine

5 -6 cloves garlic, minced

3 tablespoons lard or 3 tablespoons butter or 3 tablespoons oil

1 (4 ounce) cans chopped green chilies

1 teaspoon ground cumin

2 tablespoons shredded cheddar cheese or 2 tablespoons chopped onions, to garnish (optional)
Directions
Sort and rinse dried beans; place in crockpot and cover with water (by several inches) and soak overnight.

In the morning, drain and rinse beans (discarding soaking water).

Return beans to crock pot, and add 6 cups water and the salt.

Cover and cook on low for 10-12 hours or until beans are nice and tender.

Drain cooked beans, reserving cooking liquid.

Mash beans and return to crock (or may mash in the crock pot).

In a small skillet, saute onion and garlic in lard or butter until tender and lightly golden; add to crock pot.

Stir in chopped green chillies and ground cumin, adding some of the reserved cooking liquid to adjust the consistency as desired.

Cover crock, and cook on high for 15-30 minutes or until heated through nicely, stirring occasionallly (may add additional liquid if needed).

Adjust salt, if necessary, before serving.

Garnish with cheese or chopped onion, if desired.