Tuna ( Prickly Pear Cactus Fruit ) Jelly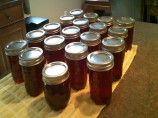 Photo by KSStadt
Prep Time: 20 mins
Total Time: 40 mins
Yield: 12 half pints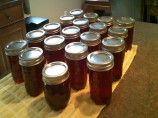 Photo by KSStadt
About This Recipe
"A gorgeously colored, flavorful jelly. This recipe does not double well. It also calls for liquid pectin, but powdered seems to jell a little better. While this recipe is written in a relatively old-fashioned way, it is perfectly safe if processed using modern methods. If you are unfamiliar with these techniques, please go to http://www.uga.edu/nchfp/how/can_home.html for the current information."
Ingredients
3 lbs ripe prickly pears, enough to yield 3 and 1/4 cups juice from cooked fruit ( cactus fruit or tunas)

1 (3 ounce) bottles liquid pectin

2 lemons, juice of

8 cups sugar
Directions
Pluck the fruit from the cactus with a long handled fork or tongs.

Put on rubber gloves to protect your hands: wash fruit under running water, then use a brush to clean (spines left on the fruit will soften during the cooking process and should come off after the fruit is strained).

Place in stockpot with about a cup of water.

Stir until boiling, cover pan and simmer until tender and soft.

Mash cooked fruit and strain using cheesecloth, a jelly bag or a fine sieve; set aside for juice to settle (for very clear jelly, do not use the portion containing sediment).

Measure sugar into a separate pan.

Bring juice and pectin just to boil, stirring constantly, and begin to add sugar slowly with constant stirring, taking about 5 minutes to add sugar, and keeping juice nearly at a boil.

Then bring to a rolling boil and boil for three minutes longer.

Remove from heat, let stand a few seconds, skim, pour quickly into jars and seal while hot.

Process for ten minutes in a boiling water bath.