Mushroom-Stuffed Beef Tenderloin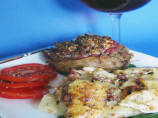 Photo by Caroline Cooks
Prep Time: 25 mins
Total Time: 1 hr 25 mins
Servings: 8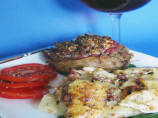 Photo by Caroline Cooks
About This Recipe
"Slices of tender beef filled with a savory mixture of mushrooms, bacon and bread crumbs. Elegant presentation for guests. Worth the expense for a special occasion."
Ingredients
6 slices bacon

2 cups fresh mushrooms, chopped

4 tablespoons onions, chopped

2 garlic cloves, minced

1 1/4 cups dry breadcrumbs, divided

2 tablespoons minced fresh parsley

1 (2 lb) beef tenderloin, trimmed

1 tablespoon butter or 1 tablespoon margarine, melted

1 tablespoon parmesan cheese, grated
Directions
In a skillet, cook bacon until crisp.

Remove bacon; crumble and set aside.

Drain skillet, reserving 1 tablespoon drippings.

In the drippings, saute the mushrooms, onion and garlic until tender.

Remove from heat; stir in 1/2 cup of bread crumbs, parsley and bacon.

Cut a slit lengthwise three-quarters of the way through the tenderloin, and lightly stuff with mushroom mixture.

Pinch meat together along the seam and secure with toothpicks.

Combine butter with Parmesan cheese and brush over top and sides of meat.

Press the remaining bread crumbs onto butter mixture.

Place meat on a rack in a shallow roasting pan, and bake, uncovered, at 350 degrees for 15 minutes.

Cover and bake for 30 minutes and check for desired doneness (a meat thermometer should read 145 degrees for medium-rare; 160 for medium; 170 for well-done).

If meat has not reach desired doneness, leave uncovered and continue cooking for up to 30 more minutes.

Let stand for 10 minutes, then remove toothpicks before slicing.