Moist and Tender Turkey Breast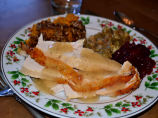 Photo by Marg (CaymanDesigns)
Prep Time: 10 mins
Total Time: 3 hrs 10 mins
Serves: 12, Yield: 1 turkey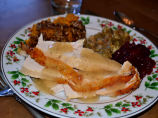 Photo by Marg (CaymanDesigns)
About This Recipe
"A girlfriend told me about the mayo trick when I was first married and I've never roasted a turkey or turkey breast without it since. The skin is crisp and flavorful and the meat is tender, moist and delicious. If you don't use the butter and broth, you will not have enough pan drippings to make gravy and you don't want to do that because this combo makes the best tasting gravy I've ever had. I've also added 1/2 cup of beer or wine to the mixture before and it was also spectacular. With slow roasting it, the meat stays so juicy I've actually had it squirt out when I insert the thermometer! I've never had a better turkey or turkey breast."
Ingredients
1 (5 -20 lb) fresh or frozen turkey breast (thawed) or 1 (5 -20 lb) turkey

1/4 cup butter, melted

12 ounces chicken broth or 12 ounces beer or 12 ounces white wine

1 -2 tablespoon mayonnaise
Directions
Place turkey or turkey breast in a roasting pan.

(I use a foil-lined 13x9-inch pan) Combine melted butter and chicken broth.

Pour over turkey.

Rub mayonnaise all over turkey's exterior.

Salt lightly if desired.

Roast at 300°-325°F until internal temperature reaches 170°F on an instant read thermometer. (I raise the temperature to 350° for the last approximate 30-45 minutes to crisp skin).

Remove from oven and let sit for about 30 minutes before slicing.

Note: because the butter and broth are for making gravy, if you need to make a lot of gravy, double the amount of both.

To make gravy: pour pan drippings into a saucepan and bring to a simmer over medium heat. Add 1 Tbls. cornstarch per cup of broth/drippings to 1/4 cup cold water. (You'll usually need 2-3 Tbls) Mix well to dissolve. Stir cornstarch mixture into broth and stir until thickened. Add salt and pepper to taste. If too thin, dissolve more cornstarch in water and add until desired thickness. If too thick, add water or more broth to thin.