TSR Version of T.G.I. Friday's Black Bean Soup by Todd Wilbur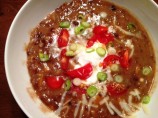 Photo by Liza at Food.com
Prep Time: 15 mins
Total Time: 1 hr 15 mins
Servings: 6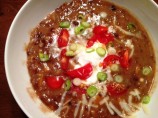 Photo by Liza at Food.com
About This Recipe
"From www.TopSecretRecipes.com I got this copycat recipe off of Top Secret Recipes site.I love Friday's Black Bean Soup because of its spiciness and I was so happy to find this! This is so easy to prepare! You can make this soup on the stovetop or in the slow cooker.I brought this soup to a boil on the stove and then put it in the slow cooker and let it simmer on low for 2-3 hours. If you like black bean soup, you're gonna love this!"
Ingredients
2 tablespoons vegetable oil

3/4 cup diced white onion

3/4 cup diced celery

1/2 cup diced carrot

1/4 cup diced green bell pepper

2 tablespoons minced garlic

4 (15 ounce) cans black beans

4 cups chicken stock

2 tablespoons apple cider vinegar

2 teaspoons chili powder

1/2 teaspoon cayenne pepper

1/2 teaspoon cumin

1/2 teaspoon salt

1/4 teaspoon hickory liquid smoke

Garnish

shredded monterey jack and cheddar cheese blend, blend

chopped green onion, sour cream
Directions
Heat 2 tablespoons of oil in a large saucepan over medium/low heat.

Add onion, celery, carrot, bell pepper, and garlic to the oil and simmer slowly (or"sweat" as it's called), for 15 minutes or until the onions are practically clear.

Keep the heat low enough that the veggies don't brown and be careful not to burn the garlic or it will be bitter.

While you cook the veggies, pour the canned beans into a strainer and rinse them under cold water.

Measure 3 cups of the drained and strained beans into a food processor with 1 cup of chicken stock.

Puree on high speed until smooth.

When the veggies are ready, pour the pureed beans, the whole beans, the rest of the chicken stock, and every other ingredient in the list (down to liquid smoke), to the pot.

Bring mixture to a boil, then reduce heat and simmer uncovered for 50 to 60 minutes or until soup has thickened and all the ingredients are tender.

*THE CROCKPOT DIRECTIONS ARE LISTED IN THE OPENING PARAGRAPH AND ALWAYS HAVE BEEN.