Italian Stuffed Acorn Squash-Crock Pot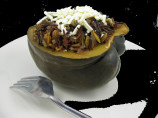 Photo by Dreamer in Ontario
Prep Time: 15 mins
Total Time: 4 hrs 15 mins
Servings: 2-4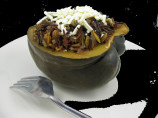 Photo by Dreamer in Ontario
About This Recipe
"Delicious squash combined with nutty rice and tangy goat cheese is a healthy delight, providing a hefty dose of fiber, vitamins A and C, and a little calcium. Serve whole or cut into wedges. This is from Delicious Living magazine, which I get from my health food store. Any good winter squash can be used."
Ingredients
1 large acorn squash, halved and seeded

olive oil

1 cup water

1/2 cup wild rice

1/4 cup raw pumpkin seeds (I have used sunflower seeds too) or 1/4 cup pine nuts ( I have used sunflower seeds too)

1 tablespoon minced garlic

1 tablespoon tomato paste

1/2 teaspoon salt

1/3 teaspoon pepper

1/2 teaspoon dried basil

1/4 teaspoon dried thyme

1 cup vegetable broth

1/4 cup crumbled goat cheese or 1/4 cup feta cheese
Directions
Cut squash in half and scoop out seeds.

Brush squash halves with olive oil and place in slow cooker (slice off bottoms to level, if necessary).

Pour 1 cup water into the cooker, around (not into) squash.

In a small bowl, combine wild rice blend, pumpkin seeds or pine nuts, minced garlic, tomato paste, salt, pepper, and spices; stir until well-mixed.

Stuff rice mixture into each squash half.

Slowly pour about 1/2 cup vegetable broth into each squash cavity until full (don't let stuffing overflow).

Pour any remaining broth around squash.

Cover and cook on low for 6-8 hours or on high for 3-4 hours.

Just prior to serving, sprinkle with crumbled cheese.

Enjoy!