Banana Pecan Whole Wheat Mini Muffins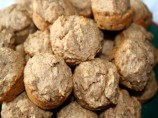 Photo by ~Nimz~
Prep Time: 15 mins
Total Time: 30 mins
Serves: 36, Yield: 3 dozen mini muffins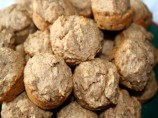 Photo by ~Nimz~
About This Recipe
"I adapted this from an Old Betty Crocker cookbook. My husband was terribly disappointed when they were all done!"
Ingredients
1/2 cup butter

1/2 cup sugar

1 cup oat bran

1 egg

2 tablespoons water

1 1/2 cups mashed bananas

1 1/2 cups whole wheat pastry flour

2 teaspoons baking powder

1/2 teaspoon salt

1/2 teaspoon baking soda

1 teaspoon vanilla

1/2 cup chopped pecans
Directions
Preheat the oven to 350°F.

Spray your mini muffin pans with non stick spray.

Beat the butter and sugar together.

Add the egg and mix well.

Then add the oat bran and mix well.

In a separate container combine the mashed banana with the 2 tablespoons water.

Mix the dry ingredients together.

Add the banana mix to the butter alternatively with the mixed dry ingredients. Mix well.

Add the vanilla and the pecans.

Bake for about 15 minutes or until the muffins start to brown.