Zwetschgenkuchen (Bavarian Plum Cake)
Brig C.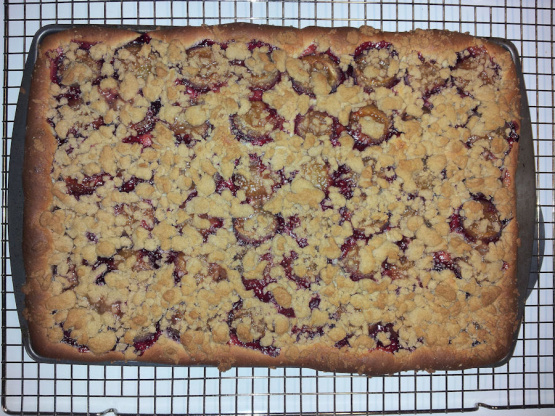 This is a traditional fresh plum cake, thought to have originated in the town of Augsburg, Germany. It is made with fresh Italian prune plums which are at their peak in late summer. Perfect for the afternoon coffee hour. Serve at room temperature, with a dollop of fresh whipped cream!

My mother has been making this plum cake for years, and it is one of our family favourites. This is a delicious, elegant cake which is homey and filling and yet perfect for company. In my Mum's version, she doesn't dust the plums with sugar, but the crumble topping is vital to add a little bit of textured, buttery crunch to the fruity taste of the plums and the soft plain cake beneath. Best with homemade whipped cream (easy on the sugar). Thanks for posting this wonderful recipe!
In a small bowl, combine the yeast and half of the milk. Mix in 2 tablespoons of the flour and 1 teaspoon of the sugar. Allow this mixture to sit in a warm place for 1 hour.
Combine remaining dough ingredients then add in the yeast mixture. Mix until a smooth dough forms, then knead by hand. Allow dough to sit in a warm place until double in volume.
Preheat oven to 350°F (175°C).
Grease a baking sheet. Roll out dough to fit the size of the baking sheet. Transfer dough to baking sheet.
Wash plums and remove any stems. Slice each in half and remove stones. Arrange plum halves evenly on the dough - plums should not be lying down, instead they should be standing stem-side up. Sprinkle plums with sugar.
Crumbs are optional. If you choose to add them, prepare the crumbs by mixing the butter, vanilla sugar, and sugar. Gradually work in flour until mixture becomes dry and crumbly. Sprinkle crumbs over dough, distributing them evenly.
Allow cake to sit and rise for another 30 minutes.
Bake cake for around 30-40 minutes or until crumbs and crust become golden brown.
Remove cake from oven and allow to cool completely.
Serve at room temperature, with a dollop of whipped cream.