Zurich Ragout (Zürcher Geschnetzeltes)
Annacia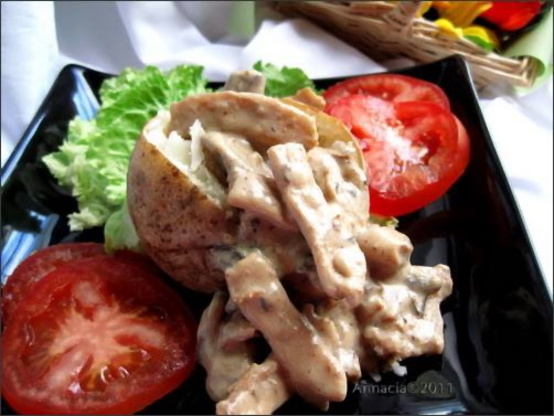 I originally found this on the About.com website, but I've seen it on many sites that feature traditional Swiss recipes. Traditionally, the recipe calls for veal veal kidney, but pork loin and chicken can be used in place of veal. It's usually served with Swiss Rosti (hash brown potatoes) and paired with a Swiss white wine or Pinot grigio.

I can't cook with alchol because it will not mix with heavy duty meds that DS has to take. To us it tastes just fine with more broth replacing the wine but be aware that I'm rating this in a virgin version. I used the pork option and it was quite nice, tender and tasty. Made for ZWT7
Melt 1 tablespoon clarified butter (or oil) over high heat and quickly brown meat strips in it until no longer pink. Remove from pan and keep warm.
Add 1 more tablespoon of clarified butter to pan, if necessary, and stir in shallots and cook for 2 minutes. Add mushrooms to pan and cook until soft and brown. Sprinkle mushrooms with flour and stir. Cook for 1 minute.
While stirring, slowly add the wine and broth to the mixture. Bring to a boil and cook until sauce is reduced by half.
Stir in the lemon zest, cream and salt and pepper to taste. Add the browned meat back to the pan to warm, but do not cook the sauce any longer.
Serve with the parsley sprinkled on top.