Zuppa De Clams (Or Mussels)
chefslev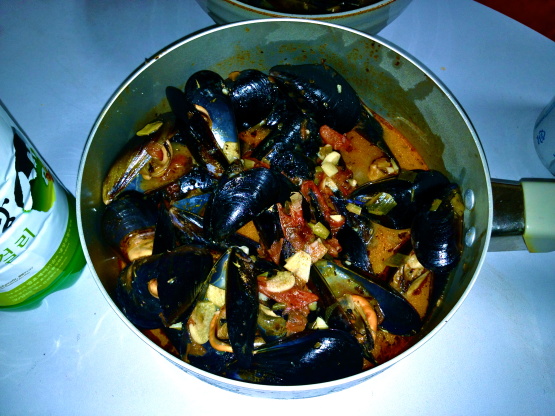 This is a delicious Italian first course soup, as good with mussels as it is with clams. The servings are large, so adjust accordingly if desired. Time does not include preparing the clams. This is pretty much the soup I would get when I'd order it in New York family Italian restaurants. You can add a bit of clam broth if you like, but steaming the claims in the broth as is gives it a nice flavor. And in this version, the tomatoes, not paste, would be used.

This soup is intended to have a 'watery' broth, with medium garlic/onion flavor. The broth is best made by purchasing addition clam broth from the fish monger when you purchase the clams. "Dom's" (no long open) in Boston, MA served the difinitive soup. Do not use tomatoes but rather use tomato paste. The onions should be in large circular ring (Vidalia) and should be served with crunchy bread and a good sharp Chablis or Cabernet Sauvignon (White)
Wash and dry the clams and soak them in a large bowl in cold, salted water for about 30 minutes.
Any remaining sand should fall to the bottom of the bowl.
Drain the clams and rinse them well in a colander under running water.
Crush one clove of garlic, and slice the remaining cloves very thin.
In a large, heavy pan, sauté the crushed garlic until it begins to brown, then remove from the pan and discard.
Add the remaining sliced garlic and the parsley.
Cook over very low heat for 2 to 3 minutes, then add the tomatoes and enough liquid to just make a slightly soupy dish.
You don't want too much liquid in this, but judge the amount to your taste.
Season with the salt and pepper, then raise the heat to medium and cook for 15 minutes.
(Add more liquid if necessary).
Add the clams, lower the heat again, cover pan, and let steam for about 10 minutes, or until the shells have opened and the clams are ready.
Discard any unopened clams.
Sprinkle with more freshly ground pepper and the basil, if desired.
(You can substitute a teaspoon of dried if you wish).
Serve in shallow bowls with slices of bread for dunking.