Bev I Am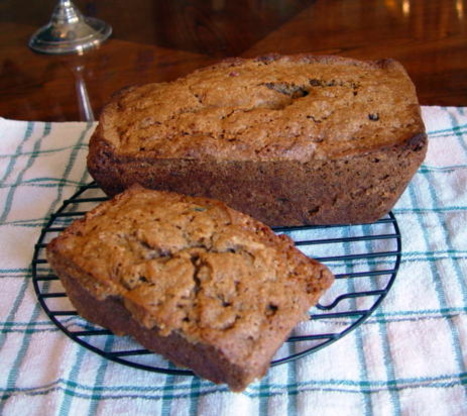 I found this great Zuke Bread recipe in the Rocky Mountain News, but, it originated in The Uncommon Gourmet Cookbook by Ellen Helman. I've made it many times over the years and have always had good luck with it. I also like to make muffins out of this batter as well. Fill them about 2/3 full and bake about 25 minutes at 350 degrees. Bread or muffins freeze really well. I cut down the prep time by grating and freezing 3 cups of Zuke's in freezer bags and defrosting as I need them.

Excellent zucchini bread, Laudee! I used the 9x4" loaf pan and it left over enough batter to make a mini loaf. I liked the addition of the pecans and the raisins. The raisins added just the right touch of sweetness. I'm wondering how this might taste omitting the raisins and adding small chopped dates. The nutmeg and clove was also a nice addition! I'm planning to gorge myself on the mini loaf now, and freezing the larger loaf for a time when we have company : ) Yummy, Laudee!!
Preheat the oven to 350°F.
Grease and flour 3 8x4-inch loaf pans.
Beat eggs, oil, sugar, and vanilla together until thick.
Add the zucchini and stir well.
Sift together 3 cups flour, baking powder, baking soda, salt, cinnamon, cloves, and nutmeg.
Gradually add the sifted dry ingredients to the zucchini mixture stirring only till blended.
Dust the nuts and raisins with 1 tbs of flour and gently fold into batter.
Pour batter into prepared pans, dividing evenly.
Bake for 50-60 minutes, or until cake tester inserted in middle comes out clean.
Let breads cool in pans for 20 minutes.
Remove to racks to completely cool.