Debbwl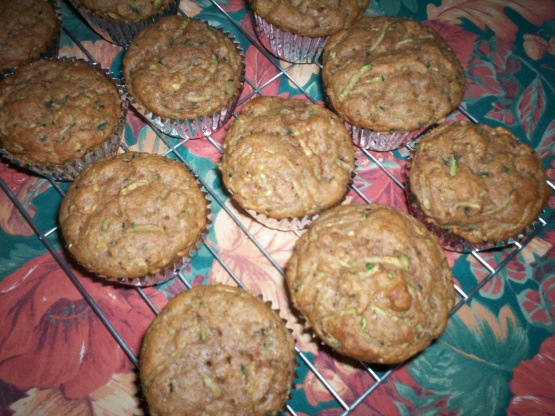 Delisious and healthy muffins

Top Review by Debbwl
Very light and moist. And did I forget to say tasty? Well they are. Made using Splenda for the sugar, 1 super sized zucchini (about 3 cups) and eggbeaters for the eggs. The cinnamon is the perfect amount. Made half into muffins and the other half in a 9x9 pan as mentioned in the directions, both turned out great. Will make again as was super yummy and 9x9 pan method was such a nice alternative to traditional muffins and bread. Thanks so much for the post.
1.) Preheat oven to 350. Spray/line muffin pan.
2.) Beat eggs until light any foamy, about 3 minutes.
3.) Add sugars, oil/yogurt, and zukes. I didn't dry off the veggies, and everything turned out fine. Combine with a spatula.
4.) Add dry ingredients, continue to combine with your spatula until completely incorporated.
5.) Bake for 20 minutes. I used a cookie scoop to portion the muffins, two scoops should fill the individual spaces. Also, instead of making more muffins, I put the remainder of the dough into an 8" square pan—to take to work tomorrow. Do not over bake.