Zucchini/Yellow Squash Stir Fry
dicentra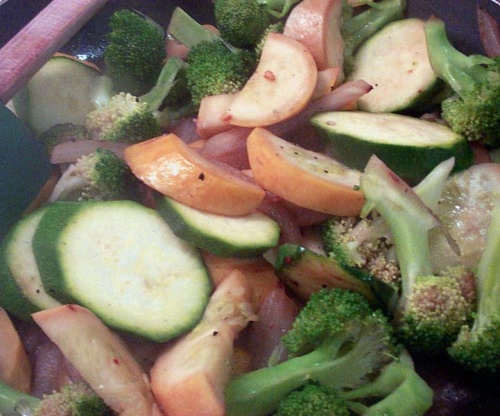 A lovely veggie side dish. Wonderful summer squash blends nicely with onion in this quickie stir-fry.

This was really delicious. I stir fried the zucchini and squash for about 4 minutes and then added the water and put the lid on for about 2 minutes. It was tender crisp. There's no way I would cook it for 6 to 8 minutes unless you like mush.
Rinse zucchini and squash.
Cut into thin slices, discarding stems and bottoms.
Slice onion into thin rings.
Spray a wok or large, covered frying pan with cooking spray.
Melt butter in pan over medium-high heat.
Add zucchini, squash and onion.
Stir-fry for several minutes, until tender-crisp.
Season with salt and pepper, to taste.
Add 3 T water and cover.
Reduce heat and simmer for 6-8 minutes or until mixture meets your criteria for doneness (We like ours slightly soft, others may prefer either crisp or very soft).