Zucchini & Yellow Squash Casserole
PanNan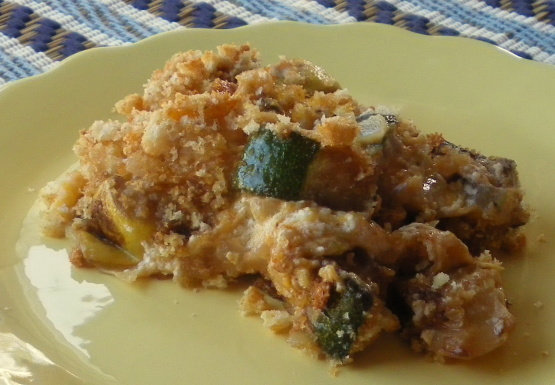 I made this tonight and just loved it. It is a great way to get rid of some of the abundance of squash in my garden. I must give credit to Paula Deen who is the creator of the recipe. Makes a great side dish in a southern meal.

This was a keeper! I did make a few changes, however. I didn't have butter flavored crackers so I substituted stove top stuffing mix and instead of using it as a topping I mixed it in and didn't drain the squash. Also I skipped the seasoning mix. Very good!! Thanks for the recipe!
Preheat oven to 350°F.
Saute the squash in a little vegetable oil over medium-low heat until it has completely broken down, about 15 to 20 minutes.
Line a colander with a clean tea towel.
Place the cooked squash in the lined colander.
Squeeze excess moisture from the squash. Set aside.
In a medium size skillet, saute the onion in butter for 5 minutes.
Remove from pan and mix all ingredients together except cracker crumbs.
Pour mixture into a buttered casserole dish and top with cracker crumbs.
Bake for 25 to 30 minutes.