Zucchini With Sun-Dried Tomatoes
Kelly M.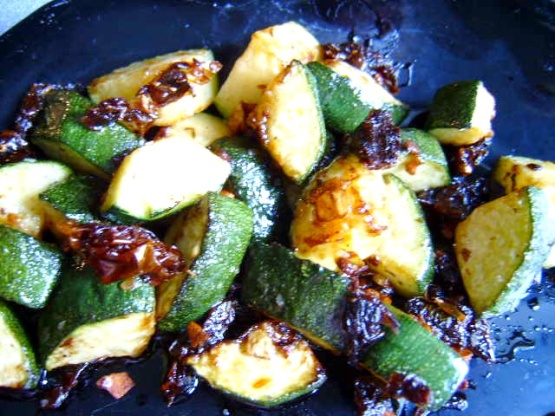 I'm bored with all the usual zucchini recipes, you know, with parmesan, pancakes, etc., so I decided to experiment a little. This is a great fast and easy side dish for any dinner. You must use oil packed tomatoes or you won't have the flavor.

Had to try this since I had some leftover fresh zucchini and always have sun dried tomatoes on hand. I decided to try it over pasta by adding some more olive oil. That was a yummy dinner! Thanks for the recipe.
Cut zucchini into 1/2 inch rounds, then cut each round into quarters (you should have about 2 cups).
Melt butter in nonstick pan and add zucchini.
Saute zucchini, stirring often, about 3 minutes.
Add garlic and saute for 1 minute.
Add tomatoes and continue to saute, stirring often, for about 2 more minutes.
Toss with salt and serve.