Zucchini With Chickpea and Mushroom Stuffing
loof751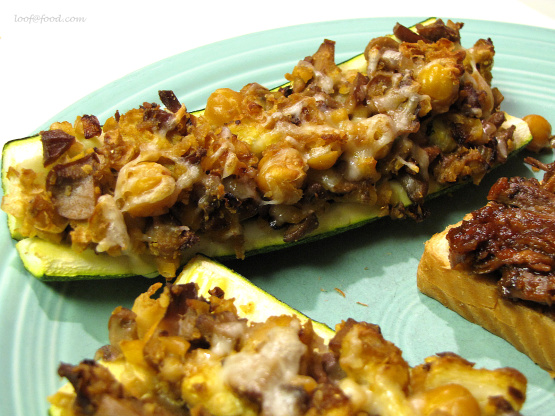 This is a recipe I found on allrecipes and tweaked it a little. The zucchini are hollowed out and filled with sauteed onions, mushrooms, zucchini, lemon juice, herbs and spices. Very healthy and tasty recipe! If you aren't concerned about fat content, top them with shredded cheese during the last 5 minutes of baking.

Top Review by Nif_H
i really enjoyed this for lunch today! Very large portion so it was filling. I made as directed and added a light sprinkling of low fat Italian blend cheese. Very very good and very very healthy! I will be making this again. Made for Went to the Market tag. Thanks breezermom! :)
Preheat oven to 350°F Grease a shallow baking dish.
Scoop out the flesh of the zucchini; chop the flesh and set aside. Place the shells in the prepared baking dish.
Rinse and drain the can of chick peas. Take half the chick peas and use a hand held blender to puree them.
Heat oil in a large skillet over medium heat. Saute onions for 5 minutes, then add garlic and saute 2 minutes more. Stir in chopped zucchini and mushrooms; saute 5 minutes. Stir in coriander, cumin, chick peas (whole and pureed), lemon juice, salt and pepper. Spoon mixture into zucchini shells.
Bake in preheated oven for 30 to 40 minutes, or until zucchini are tender. If desired, top with shredded cheese during the last 5 minutes of baking.