Kathy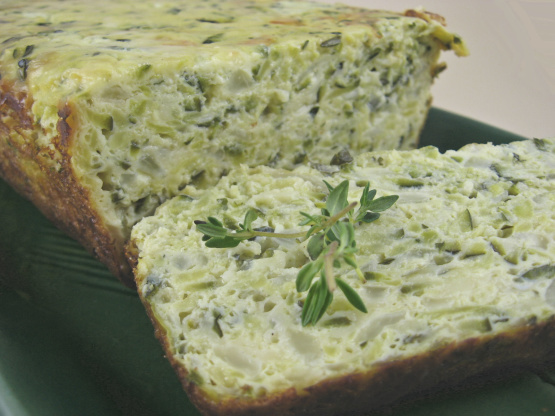 From 'Femme Actuelle' women's magazine in France, Sophie Dudemaine's recipe. I'm posting the original recipe as written but I didn't use all zucchini, I used part grated carrot and a big handful of chopped chicken too. For herbs, I used fresh basil and parsley. For cheese, I used half feta and half Swiss, as that was what I had in the house. This would be a very forgiving recipe and lots of different things could be used.

Top Review by Kathy
I had this for lunch today and it was oh so good. The combination of zucchini/onion/thyme was wonderful combination, and the fresh herbs made the dish. If you think you're going to use dried herbs, forget it, you really need fresh for this recipe. I also had enough for one full-size loaf pan and one small loaf pan. I checked the full-size terrine at 50 minutes and it was done. I probably could have removed it from the oven 5 minutes earlier (45 minutes)
Preheat oven to 180°C, or about 375°F.
Sauteé the vegetables for about 15 minutes in a little olive oil if you like., If not, just cook and stir.
In a big bowl, beat the eggs, with the evaporated milk.
Add the cheese and herbs.
Add the cooked vegetables and salt and pepper to taste.
Grease a loaf pan or two, depending on the size you use. I used one standard and had enough for one small loaf pan too. Be careful to leave half an inch of space, I had some dripping problems in the oven.
I cooked the small pan for about a half an hour, and the large pan for about 55 minutes. Test with a point of a knife that should come out clean.
Unmold while still warm.
May be eaten hot, warm or cold. I may serve with a light tomato sauce.